Hosted Solutions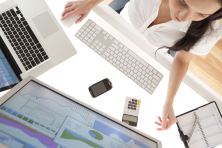 Many Small Businesses depend on software like Quickbooks, Exchange or SharePoint to smoothly run their businesses. With a custom Hosted Solution, you can outsource your local data hosting and the stress that comes along with it.
When your business critical software and applications are hosted by IT Foresight, you won't have to worry about keeping them running smoothly, and you can focus on what is most important – running your business.
With Hosted Services from IT Foresight, you get:
Hosted Quickbooks - Streamlining your accounting experience.
Hosted SharePoint - Making collaboration work more efficiently.
Hosted Exchange - Prevent spam and access e-mails easily.
Application Hosting - Customized support for your unique Line Of Business applications.
Hosted Services from IT Foresight let you experience the advantages of Microsoft and other technologies that can take your business to the next level, along with a team of experts to manage it all.
Hosted Solutions from IT Foresight allow your business take full advantage of the technology available in the Internet so that you get the most out of your technology investment. IT Foresight can modernize your business with improved organization, collaboration, communication, security and more.