HaaS
Stress-free hardware and operating systems like never before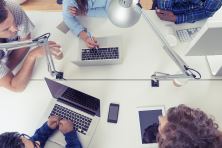 IT Foresight creates custom Hardware as a Service (HaaS) solutions that meet the needs of your individual business, easing technology-related frustrations and reducing the cost of replacing and upgrading your IT. By bundling your technology equipment and warranty service costs, IT Foresight simplifies IT budgeting with one flat rate that covers everything you need. Plus, HaaS solutions provide your business with huge tax advantages as well.
Our monthly fee ensures you'll never be stung with expensive IT bills, knowing that your equipment, warranty service and maintenance services are completely covered.
We provide operating systems, infrastructure hardware, warranty services and software for desktops, laptops, switches, firewalls, routers and servers.
Hardware as a Service programs from IT Foresight include service and support for your:
Infrastructure
Hardware
Operating systems
Other software and warranty services for servers, desktops, laptops, routers, switches and firewalls
Finally you can take the unpredictability out of your technology budget. Hardware as a Service, or HaaS, programs from IT Foresight are a simple way to keep track of your IT expenditures and reduce the need for regular equipment and operating system updates.
Are your hardware needs costing you more than they should?
Start saving now.