Business Continuity Planning
Reliable and Secure Data Backup and Data Recovery in Cincinnati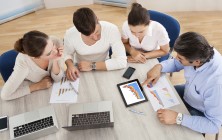 What would happen if a disaster hit your business today? Could you run your business without your files or customer information? How quickly could you recover, if you could recover at all? Are you prepared for the unexpected?
IT Foresight will create a custom plan to truly safeguard your entire business from unexpected disasters and data loss.
Partner with IT Foresight and receive reliable Data Recovery for your Cincinnati business. You will be able to
Depend on quick and secure recovery. Have the peace of mind of knowing that you will be quickly up and running should there be a disaster.
Strengthen your data and your business – our plans cover everything from necessary customer and business critical data to your important email.
Our strategic Business Continuity solutions protect you, your employees, your customers, and all that you've built.
You can count on the experience and innovative strategies provided by IT Foresight to keep your business safe from things you can't control. Our backup solutions and data recovery services provide security and protection you can depend on for years to come. Prevent just one accident from derailing and destroying your entire business. With IT Foresight, you can have a data recovery solution in Cincinnati that is always there for you, no matter what.